Call for applications: young leaders visitors programme, sweden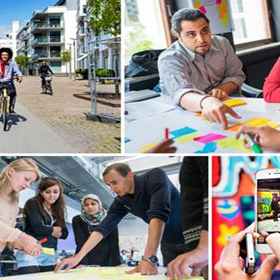 The Young Leaders Visitors Programme (YLVP), an intercultural leadership programme for 30 young leaders from the Middle East, North Africa and Sweden, managed by the Swedish Institute, is now open for applications. The programme offers personal and professional development opportunities to leaders who work for positive social change in the fields of democracy, human rights, sustainability and equality. YLVP provides the tools necessary to accomplish a greater social impact.YLVP builds and strengthens individual leadership through group-centric methods such as collaboration, feedback and reflection. Participants will learn in-group…
The Young Leaders Visitors Programme (YLVP), an intercultural leadership programme for 30 young leaders from the Middle East, North Africa and Sweden, managed by the Swedish Institute, is now open for applications.
The programme offers personal and professional development opportunities to leaders who work for positive social change in the fields of democracy, human rights, sustainability and equality. YLVP provides the tools necessary to accomplish a greater social impact.
YLVP builds and strengthens individual leadership through group-centric methods such as collaboration, feedback and reflection. Participants will learn in-group from respected facilitators and from each other, through workshops, practical exercises and hands-on performance.
The four-week programme is divided into two modules that take place at separate times and in separate places: the first will take place in Sweden from 8-26 May 2017, and the second from 14-20 October – the location for the latter is yet to be confirmed.
This call is open to:
– NGO leaders, legal workers, journalists, social workers, cultural workers, social entrepreneurs, civil servants, youth politicians or individuals in another type of leadership role;
– People who work actively for democracy, sustainability, diversity and/or human rights;
– Persons who are aged between 22 and 32 (ie, born between 1984 and 1995);
– Those who have a good working knowledge of both written and spoken English;
– Citizens of Algeria, Egypt, Iraq, Jordan, Lebanon, Libya, Morocco, Palestine (including those with a Jerusalem ID), Sweden, Syria, Tunisia or Yemen.
Please note that the offer to participate in the programme is valid only on condition that the participant obtains a visa to travel to Sweden. The Swedish Institute will facilitate the visa application process, but cannot guarantee a visa.
To apply, please click here to fill in the online form in English, and go to the application portal. Please send an up-to-date CV in English, a letter of recommendation (not more than 500 words) in English, French or Arabic, as well as a photo.
The submission deadline is 5 December 2016.
The selected participants will be informed by 20 February 2017.
For more information, please click here or send an email to [email protected]