Call for applications: Charlottenborg Spring Exhibition 2017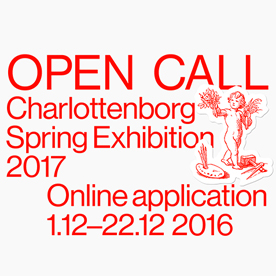 Submission of artworks is open for the Charlottenborg Spring Exhibition 2017 that is set to be held next year from 2 February to 11 March 2017. Artists of any nationality and country of residence, aged over 18 years, can submit their artworks which may fall into a wide range of genres associated with art, architecture and design – including painting, drawing, sculpture, installation, photography, video, film, performance, design, craft, animation, sound and new media. An international jury, made up of artists and other art and design professionals from the Nordic countries and beyond will select the works and nominate five artists for one special jury award: the Solo Award. The award…
Submission of artworks is open for the Charlottenborg Spring Exhibition 2017 that is set to be held next year from 2 February to 11 March 2017.
Artists of any nationality and country of residence, aged over 18 years, can submit their artworks which may fall into a wide range of genres associated with art, architecture and design – including painting, drawing, sculpture, installation, photography, video, film, performance, design, craft, animation, sound and new media.
An international jury, made up of artists and other art and design professionals from the Nordic countries and beyond will select the works and nominate five artists for one special jury award: the Solo Award. The award recognises overall artistic quality and present-day relevance, and is granted on the opening day of the exhibition. The Solo Award is accompanied by an invitation to exhibit at the subsequent Charlottenborg Spring Exhibition 2018.
To apply online, please click here and follow the application process.
Please note that up to five contributions can be submitted. For each contribution, you can upload up to four images, with a note and description field if the work requires special explanation. There is a time limit of five minutes for video, film, animation and other time-based works. The time limit is only for the application, and not for the final viewing. The works may not be more than two years old, and must not have been exhibited before at other juried exhibitions in Denmark.
Please note that a €75/£65/$102 entry fee applies.
Please click here to read the guidelines.
For more information, please click here, send an email to [email protected] or call +45 4028 2941.
The submission deadline is 12 am on 22 December 2016.
The jury's decision will be revealed to applicants by email on 11 or 12 January 2017.
The Charlottenborg Spring Exhibition is one of the most important open-submission exhibitions in Europe that has been held annually in Copenhagen since 1857. It is held at Kunsthal Charlottenborg, one of the largest and most beautiful spaces for contemporary art in Europe. It originated as an exhibition showing new works by Danish artists and now features participants from many countries. The exhibition allows a considerable number of artists to participate in a major international project and has over the years provided the first significant platform for many emerging artists, while also presenting important new pieces by more established figures.